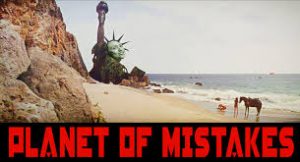 8/3/20 News of Planet of the Apes, with Meria.
Latest on coronavirus; trump attacks Dr. Birx; 11,000  a week; unemployment mess; fires & hurricanes; trump asked Brazil for a "favor"; trump & Jared; let the blue states die; NASA; trump vs. Nevada; Wilford Brimley dead;Alan Parker dead;  Portland; fees for asylum; Chile; Israeli protests; Ivanka & Jared; Gohmert; Vindman; TikTok; Barron; Ghislaine Maxwell papers; Ellen; $19 million a day to Israel; Pompeo; Hong Kong; Jim Jordan; John Lewis; trump owes $2million for police protection; Michael Brown; earthquakes; vote by mail; Michael Flynn; Exxon; crazy people; mail delays and more insanity.
                                                           

21st  Year on the net!
Education you don't get anywhere else – commercial/censor free because of your subscription. Support truly independent media –. All downloadable.

Twenty first anniversary celebration of the Meria Heller Show!