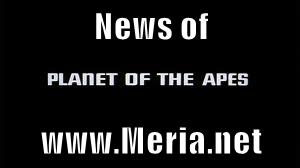 8/6/20 News of Planet of the Apes, with Meria.
NY Atty Gen sues to dissolve the NRA; blast in Beirut; trumps Deutsche Bank complied; coronavirus latest; schools already tested positive; Hiroshima a war crime; homeless hangings up; National Guard and politics; Fauci; party, lose utilities; Rashida Tlaib and other progressives win; jobless claims rise; evictions due; Kris Kobach loses; cops vs. black families; George Floyd; mail in voting; trumps friend dies of Covid19; digital currency; virtual conventions; Yosemite; Sally Yates; Jared; Falwell; Epstein & MarALago; Az. gyms; vaccines; census; trumps TikTok shakedown; Chinese seeds; stimulus talks; Netanyahu's son; trump & Ghislaine; and loads more news.
                                                           

21st  Year on the net!
Education you don't get anywhere else – commercial/censor free because of your subscription. Support truly independent media –. All downloadable.

Twenty first anniversary celebration of the Meria Heller Show!