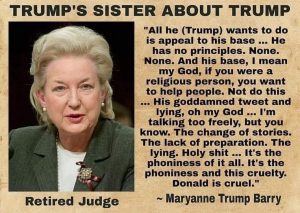 8/24/20 News of Planet of the Apes, with Meria.
Book on Melania coming out; Steve Bannon arrest and more charges; Rose Garden redux; Republicans for Biden; trumps sham convention; trumps sister on trump; GOP "no platform"; another black father shot by cops; Jerry Falwell likes to look; Kellyanne Conway; Kanye; coronavirus; Jason Miller facing charges (best people); USPS; Mnuchin picked DeJoy; Israeli horrors; bombing Gaza; vote; ballots;banks getting rich; fires and hurricanes; fake cures; school; TikTok; trump talks to God; Steve Buscemi & Kevin Costner on trump; trump and fires in Calif; trump has to pay Stormy's fees; Syria; leaked audios; trump calls FDA deep state; system of injustice-Lori Laughlin; DeJoy's business;Bill Barr & Bannon; evictions; Kris Kobach & Bannon; GE Mosquitoes; and loads more.
                                                           

21st  Year on the net!
Education you don't get anywhere else – commercial/censor free because of your subscription. Support truly independent media –. All downloadable.

Twenty first anniversary celebration of the Meria Heller Show!