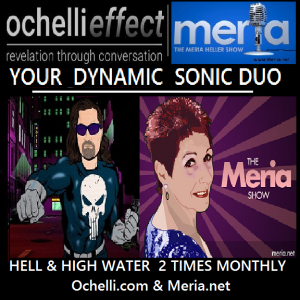 9/22/20 Hell & High Water with Meria & Chuck Ochelli.
Chuck's book; who is Meria? consciousness; why we are here; Ruth Bader Ginsburg; armed madhouse; Mitt Romney; a Messianic government?; Bible rule? Dave McGowans work; Inaction is a choice; separating the wheat from the chaff; felons and the right to vote; what happened to rehabilitation in prison? paying your debt to "society"; poll tax in Florida; Mike Bloomberg; Eugenics & genocide; forced sterilizations; where's the "pro lifers"? abortion is a class struggle; class warfare; spiritual warfare; trump & Biden; human or not? don't try understanding the cult and lots more.
                                                           

21st  Year on the net!
Education you don't get anywhere else – commercial/censor free because of your subscription. Support truly independent media –. All downloadable.

Twenty first anniversary celebration of the Meria Heller Show!