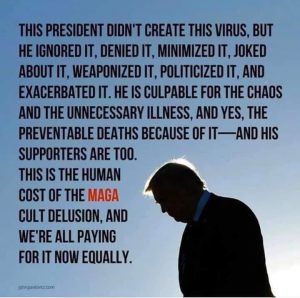 9/10/20  News of Planet of the Apes, with Meria.
Bob Woodward's book -trump knew-murderer!; Cover ups at DHS; vaccine test halted; Barr defending trumps rape; trumps campaign broke; cops shoot 13 yr old; hunger strike in ICE camps; Australia; facebook sued; Belarus; Israel; coronavirus spreads; voting twice in Georgia; the Wall; UK virus; stocks; fake christians; Halloween; trump vs. Generals, Troops, Pentagon,Cuomo's; fires rage in Calif,Oregon,Washington; Ice melts; Louis DeJoy and wife; Khashoggi; heat blob; hunger; Germany's far right loves trump; India; unions; Kamala; Michael Cohen's book; Beirut's port; federal executions; GOP defends trump; more trump judges; Russia; stimulus; Diana Rigg dead; killing wildlife off and more insanity.
                                                           

21st  Year on the net!
Education you don't get anywhere else – commercial/censor free because of your subscription. Support truly independent media –. All downloadable.

Twenty first anniversary celebration of the Meria Heller Show!