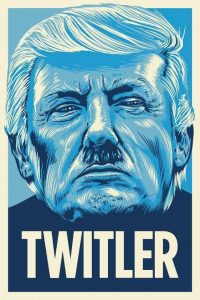 9/17/20 News of Planet of the Apes, with Meria.
Quickly moving into total fascism; Barr wants protesters charged with sedition; trump rebukes his own CDC chief; trump rejects science; eugenics in ICE and prisons; Hurricane Sally; fires; dead birds in New Mexico; Coronavirus; trumps war on blue states; Barbados; USPS; trump want to use exotic weapons; trump wanted to assassinate Assad; Amish rape; lost species; another sexual assault accusation against trump; Nevada super spreader; Barr & Stone; trumps town hall disaster; Israel; football; John Bolton; Steve Bannon & China; Jason Miller; Vindman; Breonna Taylor settlement; Michael Caputo; poll tax in Fla; Compton's "executioners" Sheriffs dept; 8800 kids sent back; more police brutality; who funds both candidates; and loads more.
                                                           

21st  Year on the net!
Education you don't get anywhere else – commercial/censor free because of your subscription. Support truly independent media –. All downloadable.

Twenty first anniversary celebration of the Meria Heller Show!