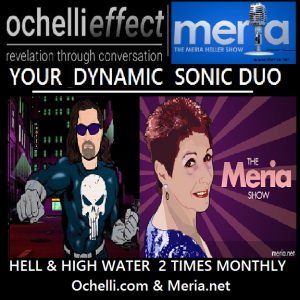 10/27/20 Hell & High Water, with Meria & Chuck Ochelli.
Inexperienced Amy Barrett; Illegimate Supreme Court; more politician than judge; religious rule; religious interpretation of the constitution; 6 conservatives picked by GOP; ACA, abortion, elections on the line; trigger laws; Racist Jared; LBJ on racism; Lesley Stahl getting death threats; death panels in Utah; energetic effects of trump & Covid; Biden's stutter; Town Halls; Justice Dept; Obama; trump on seniors; Borat Movie; MSM enabled trump all the way and more news.
                                                           

21st  Year on the net!
Education you don't get anywhere else – commercial/censor free because of your subscription. Support truly independent media –. All downloadable.

Twenty first anniversary celebration of the Meria Heller Show!