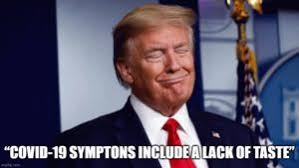 10/5/20 News of Planet of the Apes, with Meria.
The "hoax" lands on trump & GOP; Rose Garden Massacre (revenge of the massacred garden?); trumps knew he had it, went on anyway; trumps "joy ride"; Jr. thinks his dad is crazy; Hope Hicks; Mark Meadows; Mr. 322; Chris Christie; Barr; trumps credibility?; Biden; Obama; Stock futures; staged photo ops; twitter on trump memes; Amy Barrett, super spreader; what to believe; Russia's ecological catastrophe; Census will continue; 4 million acres gone in Calif; airline layoffs; GOP "who's who" of the Covid 19; NYC closing schools; suing Gov Abbott; Putin; Nancy Pelosi; October Surprise; secret tapes of Melania; Kimberly Guilfoyle; Brad Parscale; Navalny blames Putin; fake christians; 1 mil a week on unemployment; Diocese files bankruptcy; QAnon; SNL; millions losing health insurance and much more.
                                                           

21st  Year on the net!
Education you don't get anywhere else – commercial/censor free because of your subscription. Support truly independent media –. All downloadable.

Twenty first anniversary celebration of the Meria Heller Show!