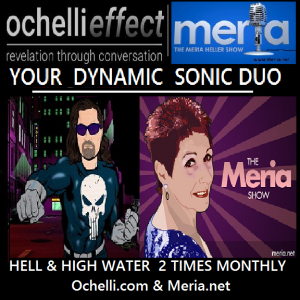 12/22/20 Hell & High Water, with Meria and Chuck Ochelli.
2020 in review, what clarity did it bring? will trump attempt martial law? Nixon vs. trump; Mike Flynn; Roger Stone; Cover Up Bill Barr; trumps domestic terrorists; antiquated fossils in Congress; $600 for us? millionaires doing the bidding of billionaires; progressives ignored; stimulus bill over 5,500 pages -signed anyway; the rushed vaccine; new strain of Covid; travel restrictions/lockdowns; $10 mil a day to Israel; and loads more.
                                                           

21st  Year on the net!
Education you don't get anywhere else – commercial/censor free because of your subscription. Support truly independent media –. All downloadable.

Twenty first anniversary celebration of the Meria Heller Show!