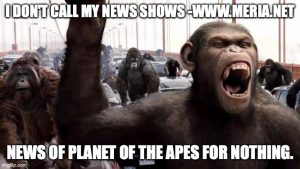 12/17/20 News of Planet of the Apes, with Meria.
Covid 19-new mutations appear; the vaccine; shutdowns; more bad reactions to the shot; arrests of journalists in US; women in prison; Paris fined for two many women in power; Macron tests positive; Pompeo tests positive; tax cuts for the rich; pathetic stimulus bill; Cuba; Georgia; trump vs. McConnell; Barr gone; trumps casino; trump may refuse to leave; Palm Beach doesn't want him; Negroe League; Google; $32 billion profit for vaccine makers; Biden; Mayor Pete; water pollution; bad cops; boarding houses; Elon Musk-crazy; GMO pigs; Russian hacks; planetary genetic overwrite; loads more news.
                                                           

21st  Year on the net!
Education you don't get anywhere else – commercial/censor free because of your subscription. Support truly independent media –. All downloadable.

Twenty first anniversary celebration of the Meria Heller Show!