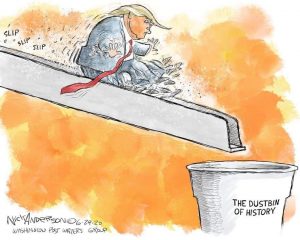 12/3/20 News of Planet of the Apes, with Meria.
Latest on Covid 19 surges; What's in that vaccine?-Bobby Kennedy Jr; Ducey ghosts trump; Fires in Calif; earthquakes; Meteor & sky strangeness; Krebs life threatened; trumps & Kushner got $3.65 mil in PPP loans; no stimulus,evictions and starvation rises; Great Barrier Reef; trumps intl. dealings; Barr vs. trump; honest election because of PAPER ballots; huge parties planned at WH; Georgia runoffs; QAnon crap; Ivanka deposed; Check out "Spitting Image" on youtube; fake christians; Iran; legalization; millions of closed businesses; trumps latest grift; bribing for a pardon; pre-emptive pardons? Flynn; Scott Atlas gone; factory farming & diseases; and loads more insanity.
                                                           

21st  Year on the net!
Education you don't get anywhere else – commercial/censor free because of your subscription. Support truly independent media –. All downloadable.

Twenty first anniversary celebration of the Meria Heller Show!