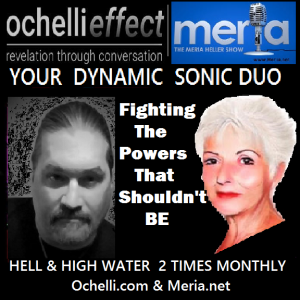 1/12/21 Hell & High Water, with Meria and Chuck Ochelli.
The insurrection at the Capitol; Twitter more powerful than political parties; what took so long? organized violence on social media; the redneck revolt; two sets of laws; defending the real estate hustler from Queens; 9/11 and 1/6 -inside jobs, to what aim? who aided and abetted the rioters? martial law; fascism; Gym Jordan; super spreader; co-conspirators; "unity"? riot privilege; Q Anon; the true heroes of January 6; Georgia; Guiliani; and more.
                                                           

21st  Year on the net!
Education you don't get anywhere else – commercial/censor free because of your subscription. Support truly independent media –. All downloadable.

Twenty first anniversary celebration of the Meria Heller Show!