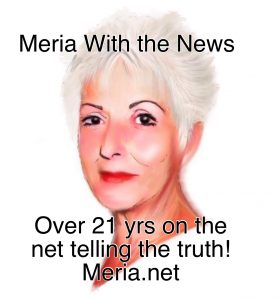 1/25/21 Meria With the News.
Covid 19 and variants; new restrictions; Bernie's mittens; Capitol riot; ex-military and cops in riot; Impeachment take two; National guard; Mexico Pres. has covid; Moderna; Mary wants to lose trump; Bolsonaro; Biden's exec. orders; Rudy hit with lawsuit; MarALago; trumps businesses; petty trump; China; Russia; domestic violent extremism; Parler & Russia; McConnell; Larry King dead; Israel; NRA; Fauci; Canada; Texas; Jill Biden; Hank Aaron dead; Pelosi; Cuba; guns on House floor; Betsy DeVos sued; white privilege; vaccine passports; and tons more news.
                                                           

21st  Year on the net!
Education you don't get anywhere else – commercial/censor free because of your subscription. Support truly independent media –. All downloadable.

Twenty first anniversary celebration of the Meria Heller Show!