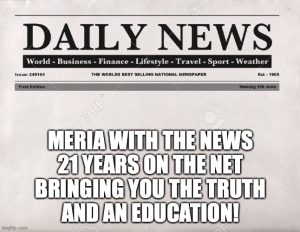 1/28/21 Meria With the News.
Several GOOD news stories today; Covid 19 and variants; cases drop 35% in US; Cloris Leachman dead; more threats from violent domestic terrorists; more flying monkeys arrested; Impeachment; Fauci/trump; Marjorie Taylor Greene; US economy shrank 3.5%; Bernie; Biden halts arms sales to Saudi's; Sharks becoming extinct; Feinstein; prices drop at trumps buildings; judges retiring; Poland & Russian protests; Bolsonaro; Proud Boys Tarrio was FBI informant; spineless Republicans; Netanyahu's threats; Biden talks to Putin; Antony Blinken; undoing trumps "legacy"; Bundy's; trumps new "office"; Janet Yellen confirmed; Guiliani sued; SCOTUS; investigating the DOJ; video evidence; Italy; Canada; Obamacare; Pence has no home; and more news.
                                                           

21st  Year on the net!
Education you don't get anywhere else – commercial/censor free because of your subscription. Support truly independent media –. All downloadable.

Twenty first anniversary celebration of the Meria Heller Show!