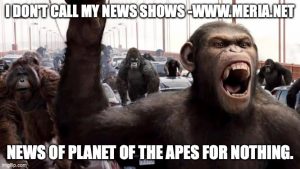 1/11/21 News of Planet of the Apes, with Meria.
The stand down on 1/6/21; trump charged with inciting violence against the US in impeachment papers; wife of Clarence Thomas; who sponsored/organized insurrection? trump disappointed his rioters looked "low class"; Impeach and convict; Biden;Arnold; trumps lackeys; Pelosi; Hawley & Cruz; Guiliani; Parler gone; trump losing corporate donors/PGA/twitter; QAnon; traitors inside the Pentagon & GOP; cop killed by "blue lives matter" flying monkeys; Covid; Israeli's protest Netanyahu; inauguration security; arrests; another Boeing crash; Derrick Evans; fake christians at the Capitol; nuclear authority; inside job; resignations; Berlinda Nibo attacked by the flying monkeys; Pence; National Guard; Bernie blames trump; the Amazon; tons more news.
                                                           

21st  Year on the net!
Education you don't get anywhere else – commercial/censor free because of your subscription. Support truly independent media –. All downloadable.

Twenty first anniversary celebration of the Meria Heller Show!