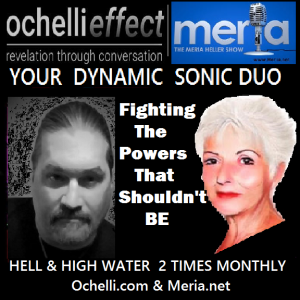 2/9/21 Hell & High Water, with Meria and Chuck Ochelli.
Meria's show can be heard on Black Gamut Entertainment now; Mary Wilson of the Supremes died; Motown; race records? trumps YMCA; After a delightful stroll down music memory lane we get into the news. It began with Nixon's pardon, Obama letting Bush slide and now the 2nd impeachment of trump; the privileged; 11/22/63; the Q Anon bandwagon and MSM; Marjorie Greene's constituents; ruining truth for true researchers of true conspiracies; overpaid athletes and objections to a $15 minimum wage; Survival of the Richest and loads more.
                                                           

21st  Year on the net!
Education you don't get anywhere else – commercial/censor free because of your subscription. Support truly independent media –. All downloadable.

Twenty first anniversary celebration of the Meria Heller Show!