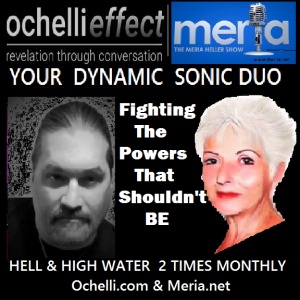 2/23/21 Hell & High Water, with Meria and Chuck Ochelli.
Psychotropic plants and healing; what are we burning up? Post trump stress disorder; food as medicine; the natural world and our disrespect for it; Ted Cruz off to Cancun – why do people excuse these types? LBJ; the myth of America; AOC; the impeachment lawyers; accountability; Merrick Garland; Supreme Court and trumps taxes; Melania and don; Guiliani & Lindell; is your feeling dread in the morning gone? the benefits of movies, laughter and lots more.
                                                           

21st  Year on the net!
Education you don't get anywhere else – commercial/censor free because of your subscription. Support truly independent media –. All downloadable.

Twenty first anniversary celebration of the Meria Heller Show!