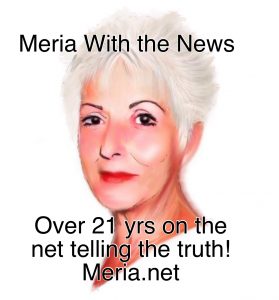 2/22/21 Meria With the News.
trumps tax returns to NY Prosecutors; Gotti & Gambino; malware on MAC's; Texas mess; Flying Cruz; trump & Kim Jong Un; Covid relief; Oath Keepers arrests; Mike Lindell sued; Myanmar; Israel; Iran; CME; Amanda Chase & insurrectionists; Merrick Garland; FBI & Malcolm X; wolves, barrier reef, tar spill; 2nd coming of trump; Obamacare; Venezuela; trump investigations abound; Lebanon; Roger & Alex; dying in prisons; United; Erik Prince; Cornel West; vaccine deaths; Vitamin D; trumps lawyers; ICE; white supremacists; Mars; trump donor gets 12 yrs and loads more news.
                                                           

21st  Year on the net!
Education you don't get anywhere else – commercial/censor free because of your subscription. Support truly independent media –. All downloadable.

Twenty first anniversary celebration of the Meria Heller Show!