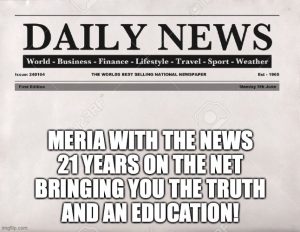 2/25/21 Meria With The News.
Manhattan's D.A. has trumps tax returns; Biden on Bin Salman; Biden lifts trumps exec. orders; Kushner's bldg in foreclosure; trumps properties worthless; Suing trump for legal fees; "One Night in Miami"; cops get away with murder again; USPS & DeJoy; Tiger Woods, Springsteen; Cuomo; Chauvin; Bannon subpoena; popular Bernie; Wolves slaughtered; Covid; vaccines; Joe Manchin; 1/3 fish extinction; Cuomo's nursing home data; Garland; nominees of color vs. GOP; Tucker & Q; Texas; Jan 6; Venezuela; SNL; and loads more news.
                                                           

21st  Year on the net!
Education you don't get anywhere else – commercial/censor free because of your subscription. Support truly independent media –. All downloadable.

Twenty first anniversary celebration of the Meria Heller Show!