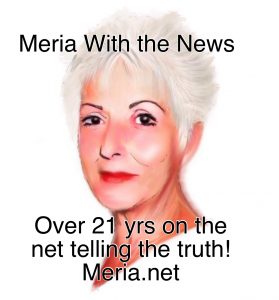 2/1/21 Meria With the News.
The economy; Game Stop; coup in Myanmar; coronaviruses been around for decades; Vaccines;protests; Relief bill; Bernie; Russian protests; snow; Biden; the organized coup on 1/6/21 and the players; trumps legal team; Ana Kasparian video; Proud boys charged; Dems to repair the courts; the vote; Marjorie Taylor Greene; AOC vs. Cruz; Alex Jones/Publix/insurrection; trump organization; BLM; Qanon; Israel; Cicely Tyson dead; Reddit vs. Hedge fund; Obamacare; GOP human trafficking; headline news; the Wall; Texas; KGB groomed trump and loads more news.
                                                           

21st  Year on the net!
Education you don't get anywhere else – commercial/censor free because of your subscription. Support truly independent media –. All downloadable.

Twenty first anniversary celebration of the Meria Heller Show!