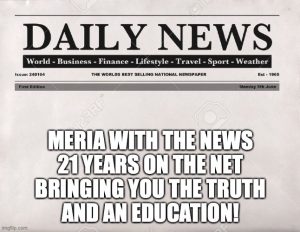 2/4/21 Meria With the News.
Rittenhouse on the loose; two separate laws; cops; Covid; vaccines; Biden's executive orders; ICE-rogue agency; trump; Marjorie Greene; Russia; Myanmar; when rent comes due; Mayorkas confirmed; Buttigieg confirmed; Bezos steps down; Navalny; Newsom; Hal Holbrook dead; Mitch vs. Marjorie; GQP; SpaceX; 1/6/21; impeachment; Stimulus; tax the rich; Covid on decline; Tony Bennett; Jen Psaki; GOP bills to make voting harder; Stacey Abrams; Israel; 46 new oligarchs; headline news; QAnon disappoints; and more news.
                                                           

21st  Year on the net!
Education you don't get anywhere else – commercial/censor free because of your subscription. Support truly independent media –. All downloadable.

Twenty first anniversary celebration of the Meria Heller Show!