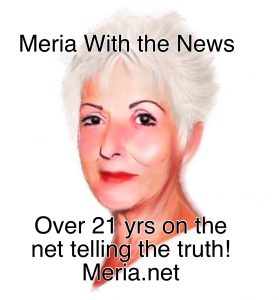 2/8/21 Meria With the News.
The planned insurrection at the Capitol and the players; impeachment; Football;Tom Brady's $1 mil PPP; Pfizer; new variants; annual shots? Liz Cheney; Iran; bad cops; South Africa; George Schultz dead; Christopher Plummer dead; Biden's latest reversals; Myanmar; SCOTUS; Lou Dobbs gone; House approves budget; Parler; Roger Stone; Israel and the ICC; glazier breaks; Yemen; Biden vs. Saudi's; MTG loses committees; trump and SAG/Aftra; heavy metals in baby foods; Lev Parnas; Guliani's disclaimer; Pence; labor reform; election reforms for the worse; Smartmatic; headline news; and loads more.
                                                           

21st  Year on the net!
Education you don't get anywhere else – commercial/censor free because of your subscription. Support truly independent media –. All downloadable.

Twenty first anniversary celebration of the Meria Heller Show!