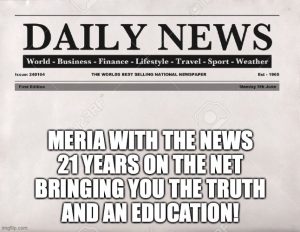 2/11/21 Meria With the News.
Impeachment trial; Covid 19 restrictions; Covid 19 on the decline; bad vaccine reactions; Robert Kennedy Jr banned from Instagram; 1 of 3 say no to vaccine; Larry Flynt dead; MTG; air pollution in subways; new deadly mosquito; Men in the mob; Israel; Netanyahu; trumps lawyers; Myanmar; Yang in the lead; foregone conclusion? trumps Covid response investigated; Georgia investigating trump; Venezuela; hackers & water supply; nuclear waste sites; majority want trump convicted; Manafort walks; Ammon Bundy; Kobe Bryant; 14th Amendment; Mayor of MarAlago? stimulus; hatred of Wall St; Mike Pence; headline news.
                                                           

21st  Year on the net!
Education you don't get anywhere else – commercial/censor free because of your subscription. Support truly independent media –. All downloadable.

Twenty first anniversary celebration of the Meria Heller Show!