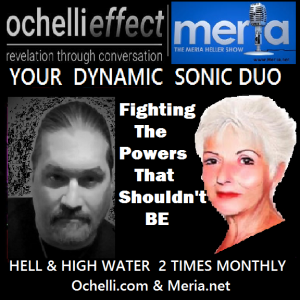 3/9/21 Hell & High Water, with Meria and Chuck Ochelli.
Today we cover "crazy town"; George Carlin -"humans circling the drain"; comedy is about discomfort; controlled scarcity; Cuomo elitist like the GOP; rules should be the same for all; co-ordinated rollout of accusations? Biden's dogs; Dr. Seuss; Kevin McCarthy; is the Bible next? chemicals and ED; Covid; fear, fear; paradigm of submission; searching for peak rage; Royal family-opium wars and much more.
                                                           

21st  Year on the net!
Education you don't get anywhere else – commercial/censor free because of your subscription. Support truly independent media –. All downloadable.

Twenty first anniversary celebration of the Meria Heller Show!