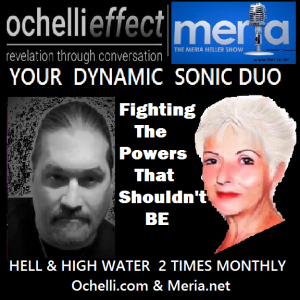 3/23/21 Hell & High Water, with Meria and Chuck Ochelli.
Mass shootings in Georgia & Colorado; where's the gun laws? AK15's; 21 yr old men; "having a bad day"; incels? hate/terrorism; collective mental illness; negative energy and fear; The Earth's reactions affect us and vice versa; "thoughts and prayers"; Colorado voted down gun laws 10 days earlier; 7 mass shootings in 7 days; what's the motive/cause? Can't find a solution without it; religious extremism; QAnon; what to do; sexual harassment vs. flirtation; hard to be young; split realities happening at once; and lots more.
                                                           

21st  Year on the net!
Education you don't get anywhere else – commercial/censor free because of your subscription. Support truly independent media –. All downloadable.

Twenty first anniversary celebration of the Meria Heller Show!