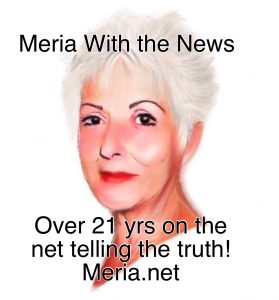 3/4/21 Meria With The News.
It's March 4-day of flying monkeys; Pentagons slow response on 1/6; States opening up; Elaine Chao investigation; two parties for war; House election bill vs. GOP's; Myanmar; Covid vaccine injuries; Jim Jordan investigated; evictions; Asian Americans attacked; Neera Tanden's out; Ronny Jackson drunk; relief checks? Cuomo; ICC investigates Israel; militias and cops; Fred Hamptons murder & Cointelpro; domestic terrorism; trump served with civil lawsuit; George Floyd; MBS; Alex Jones & trump; Vernon Jordan dead; sanctions on Russia; Boy Scouts; taxes on unemployment; Nicolas Sarkozy sentenced; Bolivian dictator to be prosecuted – VIVA Morales!; trump secretly vaccinated; trump Org investigation; headline news; Earth's magnetic poles and much more.
                                                           

21st  Year on the net!
Education you don't get anywhere else – commercial/censor free because of your subscription. Support truly independent media –. All downloadable.

Twenty first anniversary celebration of the Meria Heller Show!