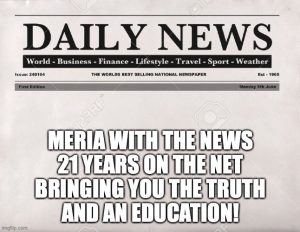 3/11/21 Meria With The News.
3rd degree murder charge for Derek Chauvin; Roombas for DDT; latest CDC info on Covid; Fukushima; Biden tonight; ok to run over protesters; Tex-Ass wants death penalty for abortions; other states just as crazy; voting suppression; cannabis; stimulus passes; Merrick Garland confirmed; taxes and unemployment; more reversals of trumps policies; more flying monkeys arrested; trump closer to indictment; Gitmo; crimes against women worldwide; Myanmar; Paraguay; Cuomo; RNC; Moscow Mitch retiring?; Pfizer's demands; Venezuelans; migrants; headline news.
                                                           

21st  Year on the net!
Education you don't get anywhere else – commercial/censor free because of your subscription. Support truly independent media –. All downloadable.

Twenty first anniversary celebration of the Meria Heller Show!