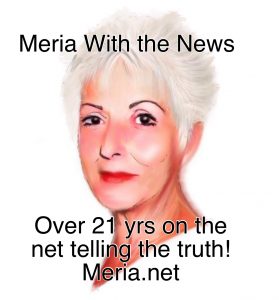 3/15/21 Meria With The News.
Proud Boys & the FBI; more flying monkeys arrested; trumps talk in trash; snow; Dr.Mercola & Vit D; NYC D.A. closing in on trump; stimulus checks; $27 mil to George Floyds family; Breonna; money to private schools? backwater States; Cuomo; Bernie; minimum wage; investigations on blue States; vaccines; bogus trump "dog" charity; Michael Flynn; Tucker Carlson, idiot; Biden's speech; Bolivia's ex-president arrested; turtles and manatees; Royals racist; trump's nude at Shivah; Ghislaine Maxwell; voting rights; headline news.
                                                           

21st  Year on the net!
Education you don't get anywhere else – commercial/censor free because of your subscription. Support truly independent media –. All downloadable.

Twenty first anniversary celebration of the Meria Heller Show!