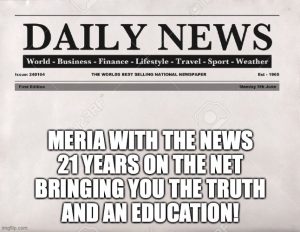 3/18/21 Meria With the News.
Asian woman sends her attacker to the hospital; Biden calls Putin a killer; Kamala Harris; Proud Boys arrests; big oil; White terrorist kills 8; trumps responsibility; women hating GOP; Cuomo & Newsom; IRS; tornadoes; Tucker loses sponsor; filibuster; Russian interference; Yemen; Myanmar; Iran; creating life in labs; AstraZeneca vaccine; reopening and rise in cases; Brett Kavanaugh; migrants; Catholic church; Newsmax and Fox; Georgia; Vindman; Liker; Haaland & Becerra; nursing homes; Africa; Taiwan; headline news.
                                                           

21st  Year on the net!
Education you don't get anywhere else – commercial/censor free because of your subscription. Support truly independent media –. All downloadable.

Twenty first anniversary celebration of the Meria Heller Show!