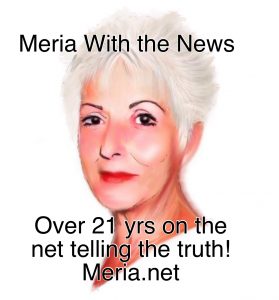 3/22/21 Meria With The News.
Sedition charges for Capitol rioters, trump? planners & coordinators; violence against Asian Americans; Spring Break, Florida; Tom Reed; Cuomo; trump platform; Biden & pot; migrants; plastic; pollution & sterility; IRS; Bannon not clear; Ghislaine Maxwell; vaccine prices to rise; earthquakes; Georgia; Putin; 29 lawsuits on trump; MTG; Dreamers; GOP vs. Violence against Women Act; trump Russian asset; headline news.
                                                           

21st  Year on the net!
Education you don't get anywhere else – commercial/censor free because of your subscription. Support truly independent media –. All downloadable.

Twenty first anniversary celebration of the Meria Heller Show!