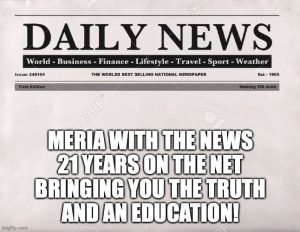 3/25/21 Meria With The News.
Dr. Rachel Levine confirmed; who doesn't the GOP hate? North Korea; Khashoggi; expansion of voting; gun control; Myanmar; Suez Canal; Israel's "democracy"; trump; unemployment; George Segal dead; NY to legalize; shooters; Georgia investigates Rudy & trump; 4000 extra murders; drilling under Mississippi? Biden; Mormons; ICC; suing against mandatory vaccines; Harp seal pups; Brazil; Bill Gates; spring break; Capitol riot; QAnon; Australia; sedition; rich got richer; Sidney "Kraken"Powell; Derek Chauvin's "jury"; Lauren Boebert; Affordable Care Act; headline news.
                                                           

21st  Year on the net!
Education you don't get anywhere else – commercial/censor free because of your subscription. Support truly independent media –. All downloadable.

Twenty first anniversary celebration of the Meria Heller Show!