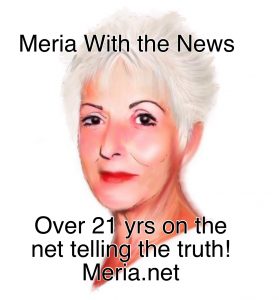 4/1/21 Meria With The News.
Another mass shooting-Calif; Transgender Day of Visibility; Biden vs. trump; infrastructure bill; women's health rights; flesh eating ulcers; latest on vaccines; shutdowns; student loans; Ivanka; crazed trump fan attacks; Bolsonaro; rainforest; investigations on trump amp up; miscarriages and vaccine; NY legalizes cannabis; Matt Gaetz; more Asians attacked; poisons in US water; tucker; Derek Chauvin's trial; G.Gordon Liddy dead; Dominion readies to sue trump; robbing the dead; Myanmar; Ghislaine Maxwell; Arkansas; Dr.Birx; domestic terrorist list; headline news.
                                                           

21st  Year on the net!
Education you don't get anywhere else – commercial/censor free because of your subscription. Support truly independent media –. All downloadable.

Twenty first anniversary celebration of the Meria Heller Show!