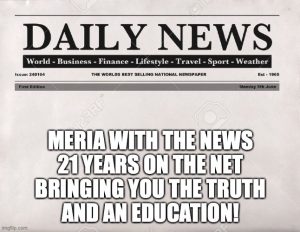 4/5/21 Meria With the News.
Earthquakes in L.A.; 52 volcanoes blew last month; global corporate tax rate? Biden's new judges; trumps campaign ripped off supporters; Florida environmental disaster; 4th wave; vaccines; attack at Capitol; MLB vs.Georgia vote suppression; Brazil; India; vaccine passports; reactions to vaccines; Derek Chavin; minors at the border; CDC; Iran; jobs up; Taiwan; China; Matt Gaetz; cannabis news; taxpayers pay for bad cops; Andrew Yang hospitalized; 55 US Corporations pay zero taxes; OathKeepers; 8 yrs for door knock? ICE; CEO's vs. voting laws; anti-Putin youth; billionaires $4 trillion wealthier;Israel; ICC; Egypt; Myanmar; ending fossil fuel subsidies; headline news.
                                                           

21st  Year on the net!
Education you don't get anywhere else – commercial/censor free because of your subscription. Support truly independent media –. All downloadable.

Twenty first anniversary celebration of the Meria Heller Show!