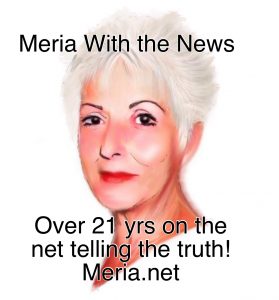 4/8/21 Meria With the News.
Another mass shooting in S.C.; George Floyd case; migrant kids abused; Biden on gun control; Kentucky expands voting rights; GOP threatens supporters; corporate taxes; Georgia; MLB; Tiger Woods reckless driving; more assaults on Asian Americans; Iran; Israel; Russia; Navalny; monitoring those who got vaccines; vaccine stats; Florida's radioactive flood; teens get away with murder; headline news; Matt Gaetz; police brutality; My Pillow; Wayne La Pierre; GOP women hire Gaetz; Texas evictions; burial funds; Merrick Garland; Palestine; Olympics; more gun murders; rape weapon of war; trump lawyers up; and loads more news.
                                                           

21st  Year on the net!
Education you don't get anywhere else – commercial/censor free because of your subscription. Support truly independent media –. All downloadable.

Twenty first anniversary celebration of the Meria Heller Show!