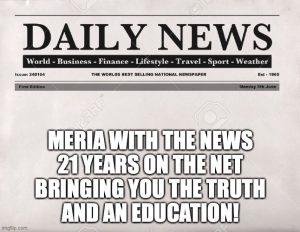 4/12/21 Meria With The News.
Another cop killing over a traffic stop; police immunity; Chavin case; CDC:racism a serious health threat; Will Smith pulls movie from Georgia; f/b; Brazil; Israel and Iran; more trump investigations; Caron Nazario; trump snubs Gaetz; storms; vaccine latest; St.Vincent; Marines and vaccine; J&J halted; restaurants no workers; Russia; Black bears; Myanmar; oil spill – LA; trumps latest rants; Ramsey Clark dead; religion dies in US; mandatory vaccines; Biden & Supreme Court; Tucker Carlson; GOP Tom Reed's sexual allegations; trump/covid/CDC coverup; DMX dead; Prince Philip dead; domestic spending; Ghislaine Maxwell; headline news; GOP Gene Suellentrop DUI; GOP John Merrill admits to affair; and loads more.
                                                           

21st  Year on the net!
Education you don't get anywhere else – commercial/censor free because of your subscription. Support truly independent media –. All downloadable.

Twenty first anniversary celebration of the Meria Heller Show!