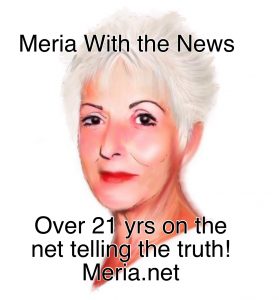 4/15/21 Meria With the News.
Joe takes on Russia; Joe undoes trumps evil policies; another cop skates; Chavin takes the 5th; adding 4 more to Supreme Court; Daunte Wright's murderer charged; flying monkeys; latest on vaccines; Corporations vs. the GOP; unemployment; Matt Gaetz; Bernie Madoff dead; Capitol Police stand down on 1/6/21; housing; fire season; buying power drops, costs rise; Iran/Israel/US; Taliban; Ukraine; Johnson & Johnson; Fukushima; tiny bowl for trump; Harvey Weinstein; Michigan; school shooting -Tennessee; DARPA microchip; DDT; trumps culpability for 1/6/21; headline news.
                                                           

21st  Year on the net!
Education you don't get anywhere else – commercial/censor free because of your subscription. Support truly independent media –. All downloadable.

Twenty first anniversary celebration of the Meria Heller Show!