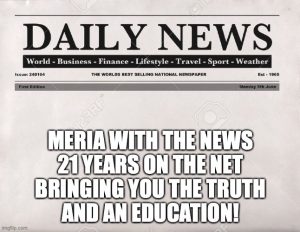 4/19/21 Meria With The News.
Derek Chavin's trial; more people shot by cops since; tons of shootings this week; Mars; homelessness; trump loses again; Russia; 36 yrs of Putin? Oath Keepers; Alex Jones; GMO mosquitoes; Pfizer VP "govt lying to you"; vaccination deaths; Bldg 7; drought; cops vs. journalists; Roger Stone owes $2 mil in taxes; Navalny; US military; Anglo-Saxon party? Prince Philip; danger of Q; Mike Pence pacemaker; Israel; Raul Castro; cops donate to Rittenhouse; Bannonism; Macron & Zelensky; headline news; mixing humans and monkeys; Jerry Falwell Jr. sued; Pompeo investigated; Bill Barr; Manafort & Russian connection; Lula exonerated; mRNA based vaccines & Prion disease; and more.
                                                           

21st  Year on the net!
Education you don't get anywhere else – commercial/censor free because of your subscription. Support truly independent media –. All downloadable.

Twenty first anniversary celebration of the Meria Heller Show!