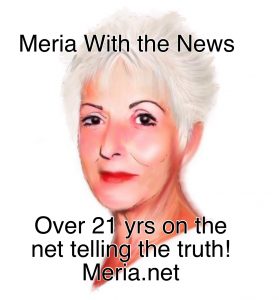 4/26/21 Meria With the News.
Drought; SCOTUS on open carry; J & J CEO sold stock before contamination; people refusing 2nd shots; India's mess; Brazil's mess; Armenian genocide; NJ cops vs the rest; more blacks killed by cops; fabrications by the trumps; trump vs. LeBron; Mike Pence ski trip; vaccine passports? forced vaccines? vaccinated still got Covid; more Asians attacked; Nomadland? really? Michigan; indicted for bleach cure; Nestle; Lindsay; Biden's first 100 days; parents fleeing anti trans states; headline news; Pfizer wants ransom; Gates; recount; trump handed over to collections; Paul Petersen, GOP human smuggler; Gaetz; Caitlyn Jenner; fighter jets for protests? Cyber Polygon; Russia; Turkey; Kavanaugh;naked cop criminally charged; American honey radioactive; and loads more.
                                                           

21st  Year on the net!
Education you don't get anywhere else – commercial/censor free because of your subscription. Support truly independent media –. All downloadable.

Twenty first anniversary celebration of the Meria Heller Show!