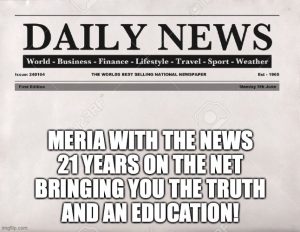 4/29/21 Meria With The News.
Biden's speech; Tim Scott; Guiliani's office/home raided; trump reaction; more police killings; history made for women; economy grows; Biden's judicial picks; glaciers melting faster; war on wolves; Andrew Brown Jr; title 42 policy; Myanmar; Israel; Russia and vaccines; more trump payouts; Ahmaud Arbery; Cuomo; Israel's genocide on Palestinians; fully vaccinated and deaths? Kamala; voting restrictions continue; census; mass shooting in Va; Native Americans vs. Santorum; Tucker incites violence; population bust; Okla. and abortion; DDT; headline news.
                                                           

21st  Year on the net!
Education you don't get anywhere else – commercial/censor free because of your subscription. Support truly independent media –. All downloadable.

Twenty first anniversary celebration of the Meria Heller Show!