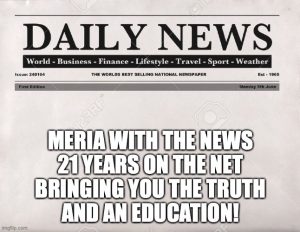 5/6/21 Meria With The News.
Space X; China' rocket to fall, but where? vaccines; Bernie vs. Mitch; obstructionist Mitch; evictions; firing squad in S.C; trumps still costing us; eating rotten meat? MTG vs. Gallego; Medicare fraud; Israel; air pollution; salmon; Peloton recall; trump sex tapes; facebook; Chavin; Proud Boys & FBI;Bill Barr; Tucker; Montana; trumps blog; Bill Gates; abortion & voter restrictions rise; 45 volcanoes blowing; Liz Cheney; muggers and nuts; Amy Barrett; Russia's nukes; headline news.
                                                           

21st  Year on the net!
Education you don't get anywhere else – commercial/censor free because of your subscription. Support truly independent media –. All downloadable.

Twenty first anniversary celebration of the Meria Heller Show!