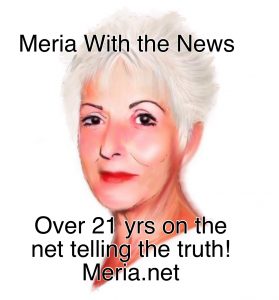 5/10/21 Meria With The News.
China's biological weapons for war; Secy of State asked for documents on Wuhan Coronavirus lab; halt the vaccine; lockdown protests in Montreal; Canada's vaccine passport; cop convicted; more charges against Chavin from 2017; hunger down; water issues; ransomware attack on oil pipeline; Palestine vs Israel (David & Goliath); Guardian apologizes for Balfour Declaration; shortages to expect; Handmaid's book deal; it's not the $300, it's the minimum wage; US experiments on it's own; f/b; anti-constitutional GOP; headline news; Liz Cheney; Guiliani; where the big lie began; Blinken warns Russia; fights at airports; more voter suppression bills; shootings and more insanity.
                                                           

21st  Year on the net!
Education you don't get anywhere else – commercial/censor free because of your subscription. Support truly independent media –. All downloadable.

Twenty first anniversary celebration of the Meria Heller Show!