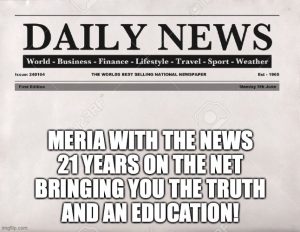 5/13/21 Meria With The News.
Pipeline resumes, Americans fight and hoard; Neantherthal MTG attacks AOC; Merrick Garland "white supremacy top security threat"; Israel's attack on Gaza; prices rise; McDonalds; Ellen DeGeneres; Liz Cheney; new party? Fauci; NRA bankruptcy denied; Newsom; crisis of low wages; cutting unemployment in red states; Russia; ransomware; gig workers; hate crimes; dirty cops; over building; China's population slowdown; MAGA insurrection and GOP revisionism; Elise Stefanik; 10 mass shootings a week; air pollution; Apple; headline news.
                                                           

21st  Year on the net!
Education you don't get anywhere else – commercial/censor free because of your subscription. Support truly independent media –. All downloadable.

Twenty first anniversary celebration of the Meria Heller Show!