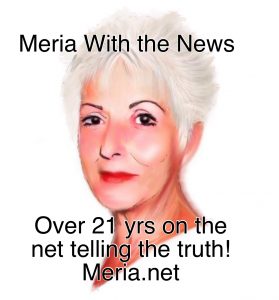 5/17/21 Meria With The News.
Netanyahu's war on Palestine, Biden silent; protests for Palestinians; fires begin; stop our dollars from Israel; Bill Gates; Supremes  on abortion case; pillbillies; trumps madness; cases intensify; EPA undoes trump rules; thought trump & Jared solved the Middle East? wild horses; trumps ambassador investigated; Matt Gaetz; Rudy; white privilege; Israeli's fight Israeli's; Rashida; trump hotel documents handed over; China on Mars; UFO's; Tamir Rice; Pentagon spying on us; pay a living wage; Liz Cheney; MTG; implantable chips; Stefanik; trumps wall and levees; headline news.
                                                           

21st  Year on the net!
Education you don't get anywhere else – commercial/censor free because of your subscription. Support truly independent media –. All downloadable.

Twenty first anniversary celebration of the Meria Heller Show!