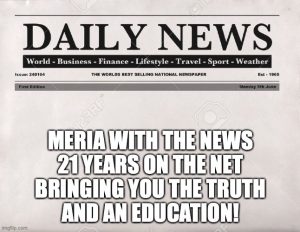 5/20/21 Meria With The News.
Obama on trump; cops charged; Bernie & AOC; Netanyahu, public opinion; Gaza under fire; Biden; the Supreme Court; Commission to expand; Gov. Inslee; trump family criminal charges; still paying for the trumps; no labor shortage, it's capitalism; Capitol police; Texas abortion ban; Redding, Ca; McConnell & McCarthy; Arpaio costing Az. $200 million; Olympics; India; new Coronavirus; Rashida Tlaib; Anti-Asian hate crimes bill; ruining the forests and the salmon; Tennessee's bathroom bill; most Americans are pro Roe; lawyer for trumpets blame their mental incompetence; racist judge; Rachel & Gaza; Sweden's vaccine damage over 31,000; Andrew Brown Jr; 1 in 25 mental; Congo; headline news.
                                                           

21st  Year on the net!
Education you don't get anywhere else – commercial/censor free because of your subscription. Support truly independent media –. All downloadable.

Twenty first anniversary celebration of the Meria Heller Show!