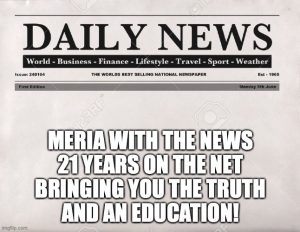 5/24/21 Meria With The News.
Bill Barr-obstruction of justice; Secret Service could testify against trump; Gordon Sondland sues Pompeo; pathetic psychos of the GOP; Capitol commission; AOC; Belarus; Volcano erupts in Congo; 223 mass shootings this year; George Floyd; No.Korea; solar flare; price of gas; Manchin; bad cop stories; Matt Gaetz; MTG; more deaths than births; vaccine deaths; Gaza reduced to rubble; Oregon or Idaho? Anthony Bouchard-rapist; lawsuit again Betsy DeVos; IRS; cease fire; high home prices; arm sales to Israel; Texas bans abortion; Lula is back; pandemic in retreat; iceberg; shootings on highway; attacks on Jews; headline news.
                                                           

21st  Year on the net!
Education you don't get anywhere else – commercial/censor free because of your subscription. Support truly independent media –. All downloadable.

Twenty first anniversary celebration of the Meria Heller Show!