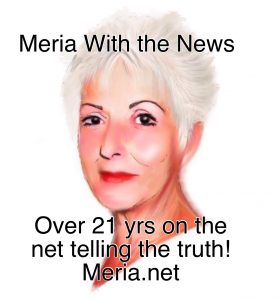 5/27/21 Meria With The News.
Grand Jury convenes on trump; AOC & MTG; Scientology; Taliban; troop withdrawal; fake vaccine cards; investigating origin of Covid? Israel's war crimes; ICE; rule by white male minority; lawsuits abound; $6 trillion budget; another mass shooting; trump whines & lies like Ivanka; Amazon buys MGM; crazy trump fans; subway assaults; Belarus; Texas gun crazy; Is Garland protecting trump? Kristen Clarke; Myanmar; Liz Cheney; Blinkin; drop in support of Israel; 23 GOP States cut unemployment; vaccine passports? tracking? Manafort lied; headline news.
                                                           

21st  Year on the net!
Education you don't get anywhere else – commercial/censor free because of your subscription. Support truly independent media –. All downloadable.

Twenty first anniversary celebration of the Meria Heller Show!