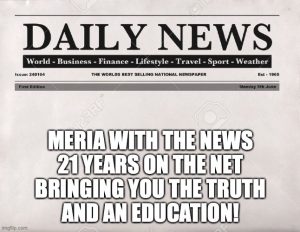 5/31/21 Meria With the News.
Memorial Day; Tucker loses advertisers; more mass shootings; Ousting Netanyahu/Bolsonaro; Texas; Mike Flynn wants a coup; flying; Tulsa Massacre; bribes for vaccinating? Covid's origin/cover up; vaccine damages; what happens if trump goes to jail; using the RICO act; GOP votes no on investigating 1/6; Is Garland protecting trump? yellow star for unvaccinated; Justice Breyer's b.s.; not a labor shortage, it's a wage shortage; Israel killed 66 kids; Biden & Alaskan drilling; more Russian hacks; dead kids in Canada; Belarus; Frankenfish; Phillip Zelikow; Rand Paul; elephants; McConnell; vaccines & spikes in cases; Guiliani; distracting from Gaza slaughter; headline news.
                                                           

21st  Year on the net!
Education you don't get anywhere else – commercial/censor free because of your subscription. Support truly independent media –. All downloadable.

Twenty first anniversary celebration of the Meria Heller Show!