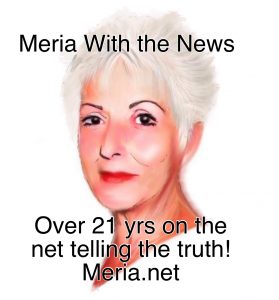 6/3/21 Meria With the News.
Netanyahu out? trump spied on reporters; Israel arrests reporters; Biden's latest; J&J; Giant Sequoias; Millennials regrets; Eric trump;National Enquirer; the insurrectionists; Paxton Smith-hero; Congo; Russian cyber attack on meat industry; Cargo ship sinks; trump believes he'll be reinstated, shuts down blog; Israel wants more money; Venus; Covid latest; Amazon Sidewalk; Pfizer and your heart; GOP terror; Kamala; Alaska; Colombia; restaurants; wage shortage; Texas; Tulsa massacre; Oath Keepers; Hyde Amendment gone; trumps legal fees; global heat deaths; Macron; 32,542 police killings since 2000; bird flu back; headline news.
                                                           

21st  Year on the net!
Education you don't get anywhere else – commercial/censor free because of your subscription. Support truly independent media –. All downloadable.

Twenty first anniversary celebration of the Meria Heller Show!