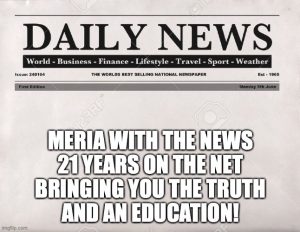 6/7/21 Meria With the News.
the stable genius is back; Netanyahu mimics trump; sinkholes; the insurrection; sedition hunters; vaccines; Fauci; Manchin; handcuffing 5 yr olds; Alzheimer drug that doesn't work; G7; unemployment; wage shortage; another man shot by cops; FBI & USA Today; Amazon Sidewalk; Texas Attorney admits his voter fraud; Filibuster; GOP Fascism; butterflies decimated; China's genocide; Amazon deforestation; 559,000 jobs in May; UAP's; F.Lee Bailey dead; Louis DeJoy investigated; Sacklers; DeVos; Chauvin wants time served; food prices up; headline news.
                                                           

21st  Year on the net!
Education you don't get anywhere else – commercial/censor free because of your subscription. Support truly independent media –. All downloadable.

Twenty first anniversary celebration of the Meria Heller Show!