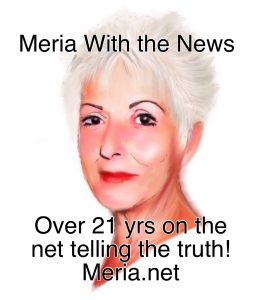 6/10/21 Meria With the News.
Heat wave; Biden in Europe; FBI vs. leakers on rich paying no taxes; racist America; Alzheimers drug; zombies at the Capitol; airstrikes in Afghanistan? masks; Netanyahu emulates trump; Putin; Bernie pressures Dems; FBI forfeitures; Israel aids repression in Colombia; Israel's torture room; Nigeria bans twitter; Biden's judges; DOJ defends trump? Proud boy arrested; Kamala Harris; China; kids getting shot; Cuomo; Guiliani's phone call; failure of intel or stand down? Manchin; Grand Jury on trump; militia vs. cops; Asian Americans vs. homeless; Supremes blow it; fires in Az; more virology labs? headline news. trumps speech in 70 seconds.
                                                           

21st  Year on the net!
Education you don't get anywhere else – commercial/censor free because of your subscription. Support truly independent media –. All downloadable.

Twenty first anniversary celebration of the Meria Heller Show!